Sprouty Kids ABC!
The first of several "reader" books tied to my soon-coming fun, effective, and free reading lesson book.
Ursula the Ugly Unicorn
A children's ebook and printed book written to raise funds to free children from slavery through the efforts of Operation Underground Railroad. It has a terrific message. I prefer to leave the illustrating to the pros, but for this book you get the opportunity to see my own drawings, as I wanted to funnel as much of the proceeds to the charity as possible.
…
I have also written 30+ books for an educational company in China, reaching over 300,000 readers and counting.
I am unable to post the digital versions of the China books due to competing companies, but here are some hacked-up mini pics of pages of a couple of my favorites: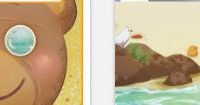 I also have other books, poetry, songs, (and maybe some articles) in the works.
Stay tuned. 🙂